Un nouvel automate de Keith Newstead en souvenir de son ami Brian Stewart..
Brian Stewart était le conservateur du Falmouth Art Gallery Cornwall. Dans ce musée, une  part importante des pièces exposées et en réserve sont des automates réalisés principalement par des artistes régionaux .
Keith vient d'être commissionné par Falmouth Art Gallery, pour réaliser un automate en hommage à son défunt ami.
On peut suivre ses travaux sur son site http://www.keithnewsteadautomata.com/node/191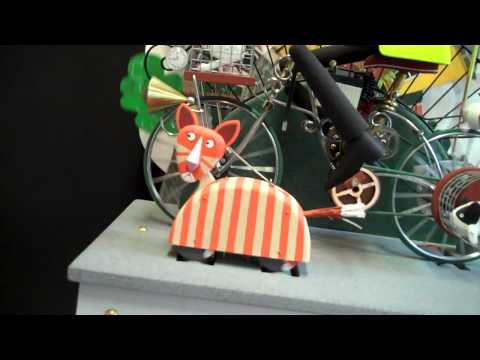 ..  
…  ..  ..
.
Juillet 2010 notre visite à : Falmouth Art Gallery
Les automates de la galerie d'art de Falmouth
Falmouth Art Gallery's Automata collection incorporates many local automata makers of national recognition including: Peter Markey, Paul Spooner, Carlos Zapata, Susan Evans, Keith Newstead, Patrick Bond, Justin Mitchell and Anthony Crosby.
photo: http://www.culture24.org.uk/places+to+go/london/art38924
Brian Stewart of 2006 winners Falmouth Art Gallery shows off the award to some appreciative customers. © The Guardian
.
.
.
.