Bravo Falk Keuten
and thank you for your good blog…
I like your present from Paul . You are lucky…
.
Fishbowl Number 3
Mixed-media Kinetic Wire Sculpture
©2008
11″ h x 12.5″ w x 9.5″ d
Artist – Michael Jacobs

Untitled (Monks Restrained)
2007, mixed media automaton, 12″ x 16″ x 5″
.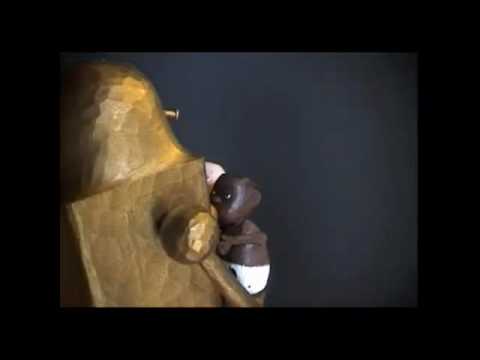 Bravo Paul pour ce petit automate très surprenant et sans le paraître assez complexe.
Etonnant aussi ce message improbable…chacun l'interprétera à sa manière.
One more time ,Congratulations Paul for this very surprising , clever automaton without seeming quite complex.
Astonishing as its inapprehensible message… everyone will interpret it in its own way, like this message
Years ago Paul Spooner said
« My work as an artist / mechanic amounts to a constant pursuit of elegance and simplicity. I haven't caught up with either yet because I don't know how to finish things. Except sometimes. And even then I'm not sure. »
.